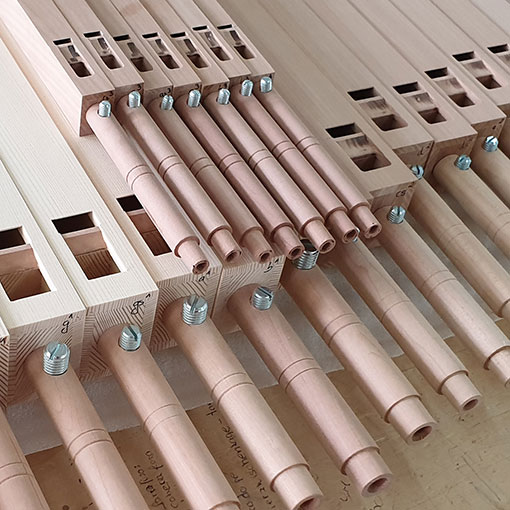 The beginnings of our company were with the wooden pipes. Through countless registers of wooden pipes, we can refer to a high level of knowledge. No matter if a wooden flute 2′ or lower case 32′.
Only selected, fine-grained woods are used, for example:
Oak
Spruce
Pine
Maple
Pear tree
Walnut tree
Cherry tree
Here, we also produce exclusively according to your specifications, including core splits and slices.
For sealing the pipe cover, you can choose as follows:
Felt and leather
Cork and leather
Leather only
Pipe feet we manufacture
with or without adjustment
straight or conical
short or long
On special request, we also manufacture special foot or handle shapes according to your drawings or samples.
For special events, for example as a gift, we also offer converted wooden pipes, such as a pipe with a labium lid to open for a bottle of wine and glasses. Or a colorful pipe for junior organists or organ builders.